Conferences and Call for Papers
Journal of Service Research
Special Issue on Service Design and Innovation: Developing New Forms of Value Co-Creation through Service
Guest Editors: Lia Patricio, Raymond Fisk and Anders Gustafsson
Submission deadline: January 15, 2016
————————————————–
Journal of Marketing Channels
Special Issue on Service-Dominant Logic and Marketing Channels/Supply Chain Management
Guest editors: Stephen L. Vargo & Birud Sindhav
Submission deadline: December 31, 2015
————————————————–
2015 IEEE International Conference on Big Data (IEEE BigData 2015)
October 29 – November 1, 2015. Santa Clara, CA, USA
Submission deadline: July 1, 2015.
————————————————–
RESER 2015 Doctoral Colloquium
September 8-9, 2015. Roskilde, Denmark.
Submission deadline: June 30, 2015.
————————————————–
HICSS 2016 Minitrack: Digital Service Innovations based on "Open" Phenomena and Practices
January 5-8, 2016
Grand Hyatt, Kauai, HI, USA
Value produced by digital service innovation is disrupting established markets as well as generating entirely new ones. The innovations come from many different sources: traditional R&D, cross-industry initiatives, new entrants that displace incumbents in traditional industries and more and more from open development processes or crowdsourcing of new ideas from consumers as existing or potential customers. This minitrack focuses on those open phenomena and practices. Examples new kind of development openness include, for example: the opening of the vast data resources collected by authorities and different governmental units, the increasing availability of new open sensor data (for example, from mobile devices), and innovation contests. We seek novel research describing innovative services or service systems that are created. The submissions can be research papers, case studies, or practitioner reports related new service development and their implications.
Opening up the development of processes and crowdsourcing these services provide new opportunities and challenges. Developer driven voluntary innovation communities such as open data and open source offer a rich source for new insights. Developers, consumers and citizens can provide new ideas, but do not necessarily have the expertise, interest or resources to develop them further, which in turn opens up possibilities for established companies and new start-ups.
This year we are especially interested on research related to the open digital services innovation and development processes. Answering these questions is pivotal from the perspectives of business research and policy making. Studies employing design research as well as either qualitative or quantitative research methods are all welcomed. We will provide a fast track for best papers to a journal, and for this we have already contacted a few journals.
Relevant topics may include (but are not limited to):
Novel approaches to crowdsourcing new digital service ideas

Novel approaches to development of new digital services

Business value of digital service innovations

Business model destruction/creation caused by digital service innovations

Open data service ecosystems

Applications and models utilizing "quantified self" data

Mydata/Midata and similar personal data management approaches

Location and sensor data based digital services

Open data infrastructures

Privacy issues related to open data and open data services
Submission deadline: June 15, 2015.
————————————————–
Journal of Operations & Production Management Special Issue: Service Modularity, Architecture and Platforms
The area of service modularity, architecture and platforms offers numerous relevant and fresh research topics and needs increasing attention from Operations Management scholars. This special issue aims to build a collection of high‐quality research articles that advance the research problems, concepts, theory and knowhow about service-related modularity based on fresh empirical and/or conceptual research.
This special issue welcomes manuscripts with research themes that combine a research problem in the area of modularization, modular architecture and/or platforms with a clear focus on services. Submissions should be relevant for the Operations Management community and address modularity, modularization, platforms or other structural aspects of business models and offerings in a service context. Particularly suitable topics are:
(1) Theoretical underpinnings of service modularity and service platforms
(2) Comparative studies on different types of service modularity
(3) Studies on platform-based service business models, including mass-customization in services
(4) Service experience and customer perspectives on modularity; implications of modularity and platforms for the service co-production process
(5) Architectural innovation in services; innovating, designing and developing modular services
(6) Modularization of services in multi-provider contexts
(7) Organizational aspects of implementing modularity in service operations
(8) Design and management of interfaces in a modular service system or offering
(9) Determinants of performance in the context of modular services; empirical evidence on benefits and challenges
(10) Modularity and platform-based approaches in the integrated solutions business context and in companies engaged in servitisation
(11) Modularity in specific service industries or in particular types of firms
(12) Hybrid offerings that combine service and tangible product modules
Submission deadline: May 31, 2015.
————————————————–
RESER 2015 Conference (The European Association for REsearch on SERvices)
Innovative Services in the 21st Century
September 10-12, 2015. Eigtveds Pakhus, Copenhagen, Denmark
Abstract deadline: May 11, 2015
————————————————–
7th EurOMA Summer School
Operations Management in the Digital Economy
July 6-10, 2015. Porto, Portugal
Application deadline: April 27, 2015.
————————————————–
Call for Papers: Industrial Marketing Management Special Issue: De-Constructing the Assumptions behind Service-Led Growth in Product Firms
Ever since the seminal papers on product-service systems, the transition from products to services, integrated solutions, hybrid offerings, and the service paradox were published, service-led growth in product firms has become an important research area. There has been a sharp rise in publications, special issues, and conferences throughout the marketing, service management, and operation management research communities. Now, more than one hundred scholarly articles on these topics are published every year. The findings have been proven to be highly relevant for industry and have attracted strong management attention.
Despite the increasing number of contributions, the articles increasingly replicate existing knowledge. The spotting and investigation of small empirical gaps dominates current contributions and results in incremental theoretical improvements. Most research does not question the implicit assumptions underlying service-led growth in product firms and, as a result, substantial theoretical extensions have become very rare. The purpose of this special issue is to promote and bring together assumption challenging research along five dimensions.
More information and full call for papers (PDF)
Submission Deadline: April 1, 2015.
————————————————–
Industrial Marketing Management
Special Issue on Servitization and Advanced Business Services as Levers for Competitiveness
Guest Editors: Bart Kamp and Glenn Parry
Submission deadline: March 25, 2015.
————————————————–
1st Service Systems Forum on Service Research in the Personal Data Economy (SSF2015)
May 26-27, 2015. Venice, Italy
Submission deadline: March 8, 2015
————————————————–
INFORMS Service Science
IEEE Transactions on Services Computing (TSC)
Dual Journal Call for Papers: In Search of a New Alignment in Service Research
Guest Editors: Michael Goul, Patrick CK Hung & Paul P Maglio
Submission deadline: March 1, 2015
————————————————–
The 10th Annual Meeting of the Service Management and Science Forum
June 11-13, 2015, Waltham, MA, USA
Submission deadline: Feb 15, 2015
————————————————–
Journal of Services Marketing Special Issue: Fresh Thinking in Services Marketing: Contemporary, cutting-edge and creative thoughts
The special issue looks forward for submissions that can be conceptual or empirical in nature, approached from marketing and business management perspectives. A variety of empirical approaches are acceptable (e.g. ethnographic, survey, experimental or archival research).
Suggested topics include, but are not limited to: (1) The role of services in transforming society and consumer lives; (2) New methodological approaches for service research; (3) Services marketing and the bottom-of-the pyramid; (4) The role of new technologies and interactivity; (5) Off-shoring and outsourcing of services; (6) Servitization; (7) Service design; (8) Co-creation and third-parties; (9) Crowd-sourcing; (10) The future and key trends in the practice of services marketing: what researchers need to know; (11) Micro-businesses, cottage industries and the service sector; (12) Social service enterprises; and (13) Viewing service(s) through a new lens. Papers must conclude with well-supported research directions, trends or opportunities which contribute to the development of a vibrant culture of service(s) marketing research.
Submission deadline: January 31, 2015.
————————————————–
The Spring Servitization Conference 2015
Servitization: the theory and impact
May 18-20, 2015, Aston Business School, Birmingham, UK
Submission deadline: Jan 24, 2015
————————————————–
Journal of Services Marketing
Special Issue on Fresh Thinking in Services Marketing: Contemporary, cutting-edge and creative thoughts
Guest Editors: Rebekah Russell-Bennett, Steve Baron
Submission deadline: Jan 15, 2015
————————————————–
Integrating Services into Manufacturing: Servitization and Territorial Competitiveness
The Special Issue welcomes papers that offer novel research contributions in exploring the links between servitization and territorial competitiveness. Papers may make theoretical and/or empirical contributions on the following suggested topics:
(1) Theoretical developments on the links between servitization and competitiveness

(2) Case studies on implementing service strategies in a given industry or region

(3) Empirical approaches-methods on how to estimate the degree of servitization of a region and/or industry

(4) Empirical approaches-methods linking servitization and competitiveness of regions and countries

(5) Assessment of public policies focusing on the development of service initiatives.
Submission deadline: January 5, 2015.
————————————————–
Call for Papers: International Marketing Management Special Issue: Servitization and Advanced Business Services as Levers for Competitiveness
Servitization is the process of seeking additional value in propositions to market through services. The addition of service offerings to the portfolio of traditionally product-oriented companies is of growing importance, with innovative new business models underpinning product-service systems. Knowledge intensive business services (KIBS) and other kinds of advanced business services are increasingly viewed as a vital in keeping manufacturing companies and industrial sectors competitive. This leads to business models which leverage the development of software, mobile apps and other smart services to create novel value propositions, service-type transactions and payment models.
Moreover, advanced business services form an increasingly important part of the tertiary sector of economies, and they also gain leverage power with regard to the primary, secondary and quaternary economic sectors.
The present call for papers welcomes contributions analyzing servitization issues in business and industrial markets from the following perspectives:

Business Models:
The relationship between KIBS and other advanced business services, on the one hand, and servitization and business model innovation on behalf of firms, on the other
Analysis of advanced business services and practices of servitization or business model innovation in the light of concepts such as: disruptive innovation, critical input provisioning, and key enabling technologies / general purpose technologies
Organizational change processes and models related to the implementation of servitization
How are technology-based versus human based servitization models developed, evaluated
How do embedded servitization versus external servitization models differ? When are each appropriate and what are the benefits and drawbacks of each type of servitization?
Meso/Macro-economic:
The potential and impact of advanced business services, servitization and business model innovation practices for the competitiveness and vitality of sectorial or territorial
Analysis of supporting (industrial) policies in this regard
Servitization and advanced business services in relation to Smart Specialization Strategies and Regional Innovation Strategies
KIBS and servitization and Factories of the Future and Advanced Manufacturing development strategies
Development of methods and indicators to measure and assess quantitatively the degree of servitization from a territorial perspective
Strategic and managerial:
How does servitization rejuvenate or complement existing strategies?
How does management prioritize servitization among alternative market segments or across existing and potential customers?
What theory/ies underpin(s) servitization strategy?
How might servitization strategy be implemented to create sustainable competitive advantage?
What implications does servitization have for business models and what new models arise?
Patterns and links between servitization processes and organizational performance
Servitization and Customer Relationship Management, customer value perception and client satisfaction
Servitization and supply chain management
Linkages between intrafirm and interfirm servitization development and implementation
More information and full call for papers (PDF)
Submission deadline: January 5, 2015.
————————————————–
Managing Service Quality Special issue: Emotions in Service Interactions
This special issues welcomes papers with strong theoretical development and empirical research that address the following topics (but not definitely limited to these): (1) Effects of emotions displayed during service interactions on customers' evaluations of the service experience; (2) Contrast of the role of emotions in service interactions between utilitarian and hedonic services; (3) Transmission of emotions in a social service-scape, including employee-to-customer and customer-to-customer interactions; (4) Relationships between service stimuli and specific emotions such as joy, delight and anger, frustration; (5) Identification of emotional pattern to different perceived service interactions; (6) Complex interplay between cognition and affect in service encounters' evaluations; (7) Evolution of the valence and intensity of emotional responses in extended service interactions; (8) Use of combined methodological approaches to identify emotions displayed in service interactions; and (9) Development and validation of a measurement scale of customers' emotional reactions to service interactions.
Submission deadline: December 31, 2014.
————————————————–
Call for Papers: 6th International Seminar on Service Modularity: Architectures, Platforms and Interfaces
The 6th International Seminar on – Service Modularity, Architecture Platforms and Interfaces – will be held on January 15-16, 2015 at Aalto's Töölö campus, in downtown Helsinki. The aim of the seminar is to foster discussions on service modularity and related research topics beyond disciplinary boundaries. We warmly welcome all scholars who are interested in the development and application of modular principles and practices in services.
The seminar is open to researchers interested in this research area and seeking to develop their research papers. As the topic is nascent and evolving, presentations and discussions on all different viewpoints related to service modularity are welcome. Doctoral students and junior faculty are especially encouraged to submit a paper. One of the objectives is to support doctoral students with their research by providing the opportunity to get feedback from senior researchers.
Contributors are invited to submit an extended abstract (500-800 words) by November 2, 2014 for consideration for inclusion in the program. After notification of acceptance, contributors are expected to submit a full paper by December 14, 2014.
The full paper can be based on conceptual or empirical research, and can either be a working document or a recently published paper. It can also be either an effort of an individual researcher or done in collaboration with a research team.
The seminar is free of charge. However, the participants are expected to cover their own travel, accommodation and other living expenses. Details for accommodation and information on how to get to the venue will be provided when the paper acceptance process has been completed.
More information>>> (PDF)
Key Dates:
| | |
| --- | --- |
| Abstract deadline | November 2, 2014 |
| Pre-registration deadline | November 2, 2014 |
| Notification of acceptance | November 7, 2014 |
| Deadline for full paper submissions | December 14, 2014 |
| Final registration for seminar | December 14, 2014 |
| Assignment of papers to discussants | December 19, 2014 |
| Seminar | January 15-16, 2015 |
————————————————–
Call for Papers: Special Issue of The Design Journal focused on Emerging Issues in Service Design
Service Design today constitutes a specific field of design research, which focuses on issues, methods and practices in relation with the conception, planning, development, and delivery of services. It is a rapidly growing field that expands our debates on the values, qualities and forms of designing. This Special Issue strives to contribute to a deeper understanding of the implications and challenges of designing for services with a look at its future developments.
We are interested in: 1) research that significantly develops or challenges current service design practices to include and deal with contemporary issues or demands; 2) studies that explore disciplinary boundaries or integrate relevant theoretical theories or frameworks to advance the foundations of this field or to question its own nature; 3) research that critically investigates and discusses new service models and provisions representing desirable or emerging service futures.
Topics may include (but are not limited to) the following:
• Service Design and Ethics
• Service Design and Impact
• Service Design and Social Change
• Service Design and Complex Systems
• Service Design vs. Designing for Service
• Service Design and Policy Making
• Service Design & Design Management in the private and public sector
Submission Deadline: Friday 1st August 2014
————————————————–
Call for Papers: 2014 IEEE International Conference on Big Data (IEEE BigData 2014)
In recent years, "Big Data" has become a new ubiquitous term. Big Data is transforming science, engineering, medicine, healthcare, finance, business, and ultimately society itself. The IEEE Big Data has established itself as the top tier research conference in Big Data. The first conference IEEE Big Data 2013 was held in Santa Clara , CA from Oct 6-7, 2013, 259 paper submissions for the main conference and 32 paper submissions for the industry and government program. Of those, 44 regular papers and 53 short papers were accepted, which translates into a selectivity that is on-par with top tier conferences. Also, there were 14 workshops associated with IEEE Big Data 2013 covering various important topics related to various aspects of Big Data research, development and applications, and more than 400 participants from 40 countries attend the 4-day event.
The IEEE International Conference on Big Data 2014 (IEEE BigData 2014) continues the success of the IEEE BigData 2013. It will provide a leading forum for disseminating the latest research in Big Data Research, Development, and Applications.
We solicit high-quality original research papers (including significant work-in-progress) in any aspect of Big Data with emphasis on 5Vs (Volume, Velocity, Variety, Value and Veracity) relevant to variety of data (scientific and engineering, social, sensor/IoT/IoE, and multimedia-audio, video, image, etc) that contribute to the Big Data challenges. This includes but is not limited to the following:
Big Data Science and Foundations
Big Data Infrastructure
Big Data Management
Big Data Search and Mining
Big Data Security & Privacy
Big Data Applications
Submission deadline: July 13, 2014.
————————————————–
Knowledge of Design Week 2014, 23-27 June 2014, Hong Kong
————————————————–
Call for Papers: Mobile Value Service Mini-track at HICSS-48
Mobile Value Services is a mini-track in the HICSS 2015 Decision Analytics, Mobile Services and Services Science track, addressing the design, implementation, use, and effects of mobile value services.
Relevant topics for this mini­‐track include (but are not limited to):
Business models related to
—Mobile Productivity and Enterprise Applications
Mobile Value Services in a business/organizational setting
—BYOD
—Development and design of business apps, integration with business platforms and architectures
—Mobile business apps for commerce, marketing and business operations
Business value of mobile services
Mobile cloud services
Development of Ubiquitous and Pervasive Information Systems
User Communities and Service Development
Privacy and trust issues for mobile value services
Important dates:
Deadline for submission June 15, 2014
Notification of acceptance August 15, 2014
Conference January 5­‐8, 2015.
More Information: CFP Mobile Value Services HICSS2015 (PDF)
————————————————–
Call for Papers: Special Issue in Simulation & Gaming: An Interdisciplinary Journal of Theory, Practice and Research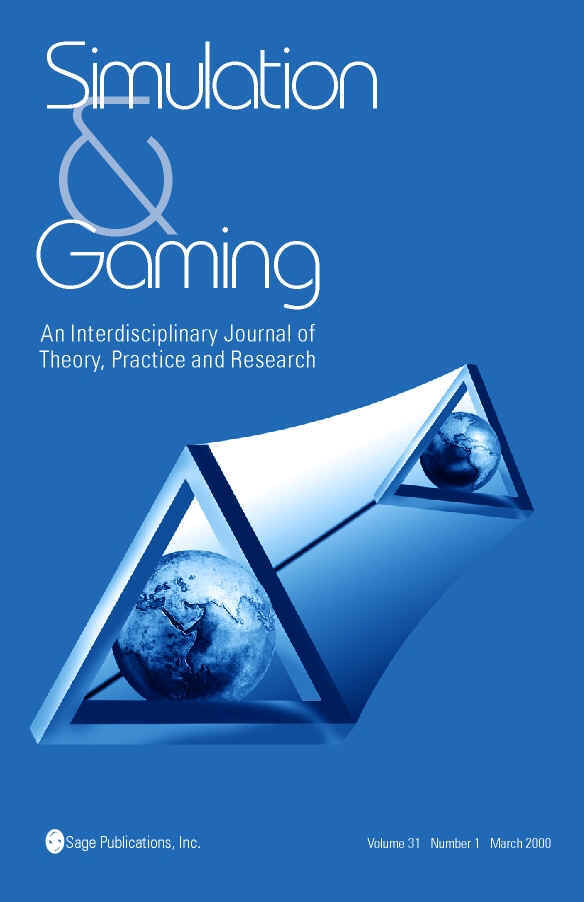 Special issue of Simulation & Gaming: An Interdisciplinary Journal of Theory, Practice and Research is calling for papers regarding service design games from both researchers and industry professionals. The editors are especially interested in seeing high-quality articles that build bridges along a variety of perspectives on service design games and the various other game and simulation scenes in the world.
At the moment the editors expect paper proposals including a working title, an abstract and a plan for the proposed paper (less then one page) with a following schedule:
Receipt of proposals during May, 2014.
Response to proposals in a month.
Writing & submission of ms, from 2 to 4 months.
Review of v1 of ms sent to authors within 2 months.
Ms revision (maybe 2nd review), editing, proofing.
Publication online as articles are accepted.
Potential topics for the symposium (special issue) include, but are certainly not limited to, the following:
Service design role-plays
Comparison of service design games with games and simulations used in other areas
Debriefing of service design games
Playful activities for service innovation
Design games and spatiality
Games and playfulness for explorative participatory innovation
Gamification of services
Games and simulations for organizational training in services
Games and playful activities for engaging different parties during a service design project
For further information and proposal submission instructions please review following document: Call for Papers – Service Design Games (PDF)
Potential topics for the symposium (special issue) include, but are certainly not limited to, the following:
Service design role-plays
Comparison of service design games with games and simulations used in other areas
Debriefing of service design games
Playful activities for service innovation
Design games and spatiality
Games and playfulness for explorative participatory innovation
Gamification of services
Games and simulations for organizational training in services
Games and playful activities for engaging different parties during a service design project
————————————————–
24th Annual RESER Conference
September 11-13, 2014 in Helsinki
VTT Technical Research Centre of Finland will host the annual RESER conference of 2014 in Helsinki. RESER conference is a multidisciplinary forum, where researchers in economics, geography, sociology, management, marketing and many other disciplines meet to share the latest advances in research on services. The doctoral colloquium related to the conference will be hosted by Department of Industrial Engineering and Management of Aalto University.
The conference main theme, "Services and New Societal Challenges: Innovation for Sustainable Growth and Welfare", highlights that services are embedded in the development of the present society. Service sectors and activities form an increasing share of today's economies, and the success of new technologies creates and needs services. Solutions to the biggest societal challenges require systemic innovations, but also these innovations often manifest themselves as new or improved services.
The six main themes for the conference will be:
1. Social innovations and system innovations in services
2. Tackling the 'unknown': towards more agile innovation processes in services
3. Co-creation of value as the basis for business models
4. New service opportunities provided by technological development
5. Services internationalization and 'glocalization': the new geography of services
6. Services and innovation in developing economies (track supported by REDLAS)
Stay tuned for more information from the conference website.
Date & Time: September 11-13, 2014
Place: Finlandia Hall (Mannerheimintie 13 e, 00100 Helsinki, Finland)
————————————————–
The XXIV ISPIM Conference – Innovating in Global Markets: Challenges for Sustainable Growth
16-19 June 2013, Helsinki, Finland
The XXIV ISPIM Conference – Innovating in Global Markets: Challenges for Sustainable Growth – will be held in Helsinki, Finland on 16-19 June 2013. Organised by ISPIM and hosted by Aalto University School of Business in partnership with Lappeenranta University of Technology, this conference will bring together around 500 researchers, practitioners, and other innovation experts from 50 countries.
Businesses are under increasing pressure from an on-going economic crisis that is reducing growth opportunities and available resources. Societal concerns increase the need to develop sustainable processes and products, and political leaders must try to balance short with long-term interests. Globalisation offers attractive new markets and also intensifies competitive pressures. The net result of these, and related developments, is an environment where new technologies, products, services and competitors can rapidly have disruptive effects. Business models can no longer be static, moreover they call for on-going innovation, and customers require solutions based on integrated products and services. As companies strive for continuity, the stakes for innovation are rising. Effective innovation strategies are required in order to meet the challenges of ensuring growth in this increasingly open, dynamic and uncertain environment. How to innovate? Where to innovate? Who to innovate for? Who to innovate with?
Submissions from academic, research, consulting, industry, intermediary and policy organisations are encouraged and should focus on the following general themes or the conference focus themes:
Innovating in Global Markets (Conference Focus Theme)
Innovation for Sustainable Growth (Conference Focus Theme)
Business Models, Entrepreneurship, & Financing Innovation
Collaboration for Innovation (incl. Open Innovation)
Creativity & Idea Generation
Green, Public & Social Innovation
Innovation Training, Teaching & Coaching
Living Labs
Methods, Tools & Measurement for Innovation
Networks & Clusters of Innovation
Strategic Foresight, Strategic Agility & Future Orientation
Transferring Knowledge for Innovation
Important Submission Deadlines
31 December 2012: Outlines Only (All Submissions)
31 January 2013: Acceptance Notification
3 May 2013: Final Submissions (including abstracts, papers, profiles & photos) PLUS registration and payment
1 June 2013: Presentation Slides
Visit the conference website for more information – http://conference.ispim.org, or download CFP
Conference marketing and communication is carried out in collaboration with Tekes – the Finnish Funding Agency for Technology and Innovation.
———————
—————————–
5th Annual International Service Innovation and Design –seminar
March 14, 2013, Espoo, Finland
The 5th Annual SID Seminar – Design (f)or Value in Service Business – will concentrate on continuous value creation for the customer. Within service businesses there is increasing pressure to improve their competitive advantage by innovating new value to the customer. Service excellence is produced focusing on continuous value-in-use leading to a positive experience. The seminar is targeted at business people, designers, public servants, students, and researchers to share their experiences on value creation for the customer by service business.
Call for papers and presentations will end on Monday, January 14, 2013
Submission: You can submit a research paper, a Power Point presentation or a poster. Submit the abstract about your research paper (max. 300 words), Power Point presentation (max. 300 words) or poster (max. 150 words) online: servicedesign[at]laurea.fi. The abstract should clearly state the purpose, theoretical framework, data collection and analysis, results, conclusions, theoretical contribution, practical implications and keywords. Please include your name (with biography and photograph) and your e-mail address in the abstract, Power Point or poster.
Please find attached SID Seminar teaser and Call for Papers.
Remarkable keynote speakers coming up soon!
More information coming at the beginning of January 2013.
| | |
| --- | --- |
| Abstract deadline | November 2, 2014 |